Romo putting his choker label on a complete Cowboys team
With less than 13 minutes left to play against Indianapolis, Tony Romo made a bad throw. Aiming for wide receiver Cole Beasley over the middle of the field, he instead found Colts safety Sergio Brown. The ball hit the defender right on the numbers, but slipped through his hands and fell harmlessly to the turf.
On another day, in another season, this is the pass we would have remembered. Instead of dropping the ball, Brown would have snared it and run it back for touchdown. Instead of being a meaningless play in a game that Dallas won 45-7, it would have been the defining one in a narrow Cowboys defeat.
Romo would, in other words, have been a choker, because that is what the narrative demands. and yet we linger always on the mistakes that he makes at the end of seasons – the ones that seem to kill playoff dreams, even when inept defense and worse coaching have played greater roles in his team's demise.
This season has provided a window into an alternate reality, because for once Romo has all the support he could need. On offense he has the assistance of DeMarco Murray, the NFL's leading rusher by some distance, and a man who ground out 55 yards on Sunday, despite playing with a broken left hand. The tailback's contributions have helped the Cowboys to establish the best time of possession (33 minutes per game) of any team in the league, .
Instead of throwing the ball more than 40 passes per game, as he did in 2012 (last year he was down to 35.7), Romo is averaging a modest 28.6 attempts – his lowest number since his rookie year. Not coincidentally, his completion rate, touchdown percentage and passer rating are the best they have ever been. He leads all starting quarterbacks in the first and last category, as well as in yards per attempt.
He is proving, too, that he can handle high-pressure games. On Sunday, with a division title on the line, he delivered his best performance of the season, completing 18 of 20 passes for 218 yards and four touchdowns. So absolute was Dallas's domination, that the Cowboys were able to withdraw him in the fourth quarter.
The victory, coupled with Philadelphia's surprising loss to Washington a day earlier, was enough to confirm the Cowboys as champions of the NFC East. Level with Seattle, Green Bay, Arizona and Detroit on 11 wins, an unfortunate combination of tie-breakers means that they will likely wind up as their conference's third seed, although they retain an outside shot at a first-round bye.
Either way, they are a threat. The Cowboys have beaten the Seahawks once already this season. And that was before anyone in Dallas began putting forward Romo's name, along with Murray's, as a possible league MVP. PB
Week 17 brings overdue Southern delight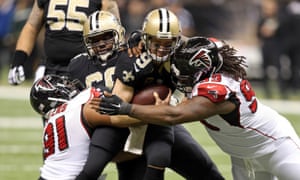 With one week to go in the regular season we can finally say it: the NFC South will be decided in Week 17 by two teams who cannot win eight games. Not including strike-shortened seasons, only the Seattle Seahawks have advanced to the postseason with a record under .500, back in 2010.
This season, the Atlanta Falcons (6-9) and Carolina Panthers (6-8-1) will face off at the Georgia Dome in a Week 17 winner-takes-all matchup – the 'all' referring to the worst division in history and a playoff berth that could still expose the head coach fortunate enough to win it.
Carolina beat Cleveland at home behind Cam Newton's heroic display, securing lifelong respect within the locker room just 12 days after fracturing two bones in his lower back in a car accident. Meanwhile Atlanta, who are now 5-0 against division opponents this season, bested the Saints to consign New Orleans to their fifth straight home defeat.
In the Superdome the big play was Jimmy Graham's reviewed catch at the goal line in the fourth quarter. It remained a fumble recovery and not a touchdown after backup safeties Dezmen Southward and Kemal Ishmael stripped the ball from the tight end before it was judged to have broken the plane. Sean Payton said afterward: "Did I think it was a score? Yes".
Drew Brees was sacked five times by the worst defense in the league, while his team committed three turnovers in the fourth quarter. The Saints' demise reached its pinnacle when Osi Umenyiora waved goodbye to his hated opponents during an 86-yard touchdown fumble return.
In Carolina, Newton threw for 201 yards and ran for 63 while Jonathan Stewart rushed for 122 yards including a nine-yard touchdown catch. Irrelevant but
always seemingly relevant, Johnny Manziel left the game in the second quarter with a hamstring injury.
Get set for a week of NFL insiders trying to convince you to watch this game. If not just for the ridiculousness of the situation, this game might need you to exceed more than a single 'beverage of your choice' to stomach. MW


AFC playoff picture remains wild
Two big winners this weekend in the AFC: Pittsburgh and San Diego. Sunday saw Pittsburgh clinch a playoff berth against the Chiefs, with another tasty division decider next week; defeat the Bengals at home and the AFC North title is theirs after two seasons of 8-8 disappointment.
On Saturday the Chargers overturned a 21-point halftime deficit to win in overtime in San Francisco, slotting them into the final wild card position with a trip to Kansas City next weekend to finish the regular season.
You certainly cannot overstate what Philip Rivers did at Levi's Stadium. It was reported afterward that the quarterback played with a bulging disc in his lower back, which is showing signs of evolving into a hernia. He also missed a Wednesday practice for the first time since 2007 leading up to the game.
Facing an almost intolerable margin at the half, Rivers offset his three interceptions in the game with four touchdowns, throwing for 356 yards and mighty clutch completions on fourth-and-8 and fourth-and-10 during the final drive in regulation to set up the extra period. Nick Novak nailed a field goal four minutes into overtime to earn the W.
Will Rivers ever win a game that truly matters? It seems people want to see him lead a team to the Super Bowl before his tantrums and erratic throwing style become justified. He might have another chance after this scintillating and resolute display.
Pittsburgh are yet to erase the memory of losing to Tim Tebow in the wild card round three years ago – the last time the then defending AFC champs were in the postseason. A 20-12 victory on Sunday was their seventh in the last nine and thoroughly enforces a successful rebuild.
The retired-to-reborn James Harrison had 1.5 sacks while Antonio Brown (seven receptions for 72 yards) is now on 122 catches for the season – the third highest single-season total in league history. Referring back to that Tebow game, the Steelers were at the conclusion of a run that witnessed three Super Bowl appearances in six seasons. They're primed for another behind Ben Roethlisberger and a young, talented roster.
The Steelers' win eliminated Miami, while the Chiefs have to beat San Diego and hope both Houston and Baltimore lose next week in order to squeeze in at the last. MW
Seattle have the stomach for another Super Bowl run
The Cardinals kept things close against Seattle for a quarter. That was as long as Marshawn Lynch stayed out of the Seahawks' lineup. The running back sat uncomfortably on the sideline through the start of Sunday Night Football, reportedly suffering with an upset stomach. No further explanations were required by a viewing public .
The game was still scoreless by the time he entered in the second quarter. Lynch's first carry went for no gain. On the next play, Russell Wilson faked a handoff to the running back, drawing linebacker Matt Shaughnessy inside. The quarterback then looped around the defender, .
Would Shaughnessy have bitten so hard on the play-action if Lynch was still seated on the sidelines? It is impossible to know for sure. But there might not be another running back in the league who could do what Lynch did after that, for a score on Seattle's next series, before .
The latter play drew instant comparisons to the 'Beast Quake', . So wild were the fans' celebrations that day that a nearby seismic monitoring station registered them as a tremor.
Although Sunday's run was the longest of Lynch's career, it was not quite as impressive as the original. Lynch was hit more times on the 2011 play, and had to work harder to shed the Saints' defenders. Patrick Peterson, the Arizona defender who had the best shot to tackle him at the weekend, attempted to strip the ball instead, making himself easier to shrug aside. But we are nit-picking here. Both were sensational plays.
Cardinals head coach Bruce Arians must wonder how his team would have fared with their own top runner, Andre Ellington, available. Or if not him, then maybe starting quarterback Carson Palmer (or even his first-choice replacement, Drew Stanton), defensive tackle Darnell Dockett, or linebacker Daryl Washington.
But it is questionable whether all of those players could have changed the outcome on Sunday. The Cardinals were expected to put up a fight. Instead Seattle crushed them 35-6, generating an extraordinary 596 yards.
That was not all about Lynch. Nor was it all about Wilson, who completed 20 of 31 passes for 339 yards and two touchdowns, as well as rushing for a further 88 yards. It was not even all about the defense which shut down Arizona's running game, forcing the Cardinals to put the game on the shoulders of third-string quarterback Ryan Lindley.
Instead it was about the Seahawks working in unison, all those exceptional components coming together to make them into something more than they were earlier in this season, when they stumbled to a 3-3 record after six games.
This Seattle team was built to contend for championships. Even as the confetti was still falling on their Super Bowl win in February, journalists had begun to ask whether the Seahawks – blessed with a young roster of motivated players locked into affordable contracts – .
Beating Arizona puts them right on track, moving them above the Cardinals into first-place in the NFC West. A win over St Louis on Sunday will guarantee the Seahawks homefield advantage through the playoffs. Playing on his own turf, perhaps Lynch will have the chance to make the earth move once again. PB
Quick outs
• Huge win by the Bengals on Monday Night Football. After blowing the Broncos out of the water in the first half, they gave up 21 points in the third quarter – falling behind on the scoreboard and looking ready to fold. Instead, Cincinnati's befuddling, ever-shifting defense got them across the line, intercepting Peyton Manning three times in the fourth (and they had already picked him off once in the second) to flip the script a second time. An eventual 37-28 victory sealed the Bengals' playoff berth, whilst also ending Denver's hopes of claiming the top seed in the AFC. Crucially, this game showed that Cincinnati can win in prime time, even if Andy Dalton, who went 17 of 26 for 146, with two touchdowns and one interception, still did not play all that great.
• The New York Post prayed . The team very nearly delivered one. In what was widely presumed to be Rex Ryan's final home game in charge, Gang Green pushed their division rivals to the brink, losing 17-16 only after Nick Folk's 52-yard field goal attempt fell short – having been tipped at the line by Vince Wilfork – late in the fourth quarter. If Geno Smith had thrown the ball away and avoided a 10-yard sack on the previous play, the ending could have been very different. As it is, the Patriots, with Denver's help, have sealed the AFC's top seed, and can look ahead more calmly to a visit from Buffalo in their final regular season game.
• Detroit and Green Bay will go head-to-head for the NFC North title in week 17 after each improving to 11-4 at the weekend. Both teams are guaranteed a playoff berth, but victory could well be the difference between landing the NFC's second seed, and falling all the way down to sixth. Or to put it another way: the difference between taking a week off, or travelling to Dallas on Wild Card weekend.

• The NFC playoff picture is (as outlined in the segments above) mostly resolved, there is still some intrigue in the AFC. New England, Denver, Indianapolis and Pittsburgh, and Cincy are in. San Diego will claim the sixth seed if they overcome the Chiefs, but if they lose then Kansas City, Baltimore and Houston are all in with a shout. We will have a full run-down of who needs what in the NFL Talkboard later this week.
• Eight receptions, 148 yards and two touchdowns for Odell Beckham Jr in St Louis this week. Only twice in the last seven games has he dropped below 100 yards receiving (and even then, he still got 90 in each of them). Early days, but this guy could have a scary career.
• Three wins in the last five games for Oakland. Has interim head coach Tony Sparano done enough to merit consideration for the full-time job? Some players seem to think so. "I think he's done a strong job for us," said safety Charles Woodson. "Of course I'm not privy to those decisions, but up until this point, he's definitely made his case."
• Marshawn Lynch might be running well, .
• Hats off to Manchester's own Menelik Watson, .
• . PB